How Dassault Systèmes virtual twin platform promises real success to device developers
April 21, 2023
• 0 Comment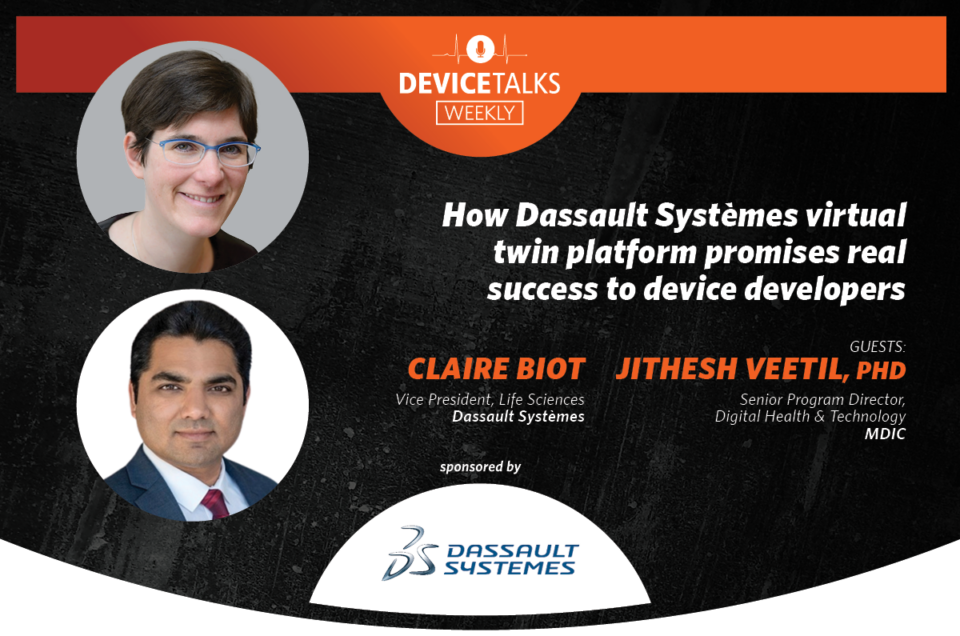 In this episode of DeviceTalks Weekly, we visit with Claire Biot, vice president, life sciences at Dassault Systèmes to learn about the company's virtual twin platform. Biot explains how the company is able to establish a digital model of a product requiring testing or patients who would serve as the test subject. The key benefits include faster product development, lower costs, higher sustainability, and stronger ethics. The company's highest profile project might the Living Heart Project, which serves as a virtual twin of the living heart allowing for faster and safer testing of cardiac devices. Dassault Systèmes is working with the FDA to develop a method for testing. We'll also connect with Jithesh Veetil, PhD, senior program director, Digital Health & Technology, at the Medical Device Innovation Consortium (MDIC). Veetil will explain how industry can incorporate virtual twin technology into development and testing. Here is a link to the Landscape Report & Industry Survey on the Use of Computational Modeling & Simulation in Medical Device Development.
Chris Newsmaker, executive editor of life sciences, also delivers his -award-winning-worthy Newmarker's Newsmakers featuring news from Intuitive, Neuromod Devices, LivaNova, Johnson & Johnson Medtech and Medtronic.
This episode was sponsored by Dassault Systèmes.
Thanks for listening to this episode of the DeviceTalks Weekly Podcast.
You can subscribe to the DeviceTalks Podcast Network on any major podcast player.